30 Hpruso refugees who were burned to death added to the total of 1,375 people killed since the beginning of the coup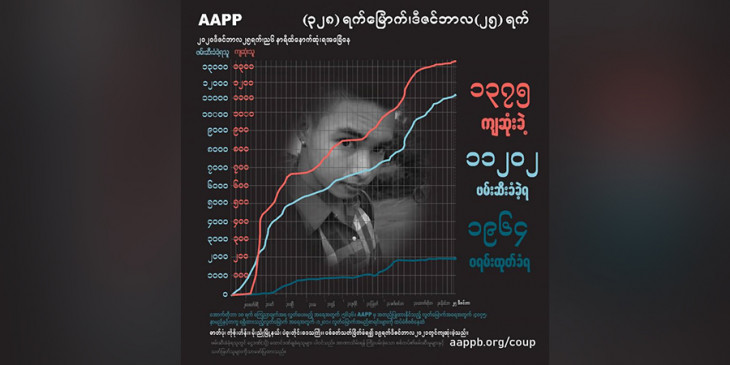 The Assistance Association for Political Prisoners (AAPP) – Burma said the death toll in the coup has risen to 1,375 innocent people killed during eleven months of the coup. The list from the AAPP has recorded deaths from February 1st to December 25th, and the actual number of deaths is likely to be higher.
During the Spring Revolution, 8,254 people have been detained, of which 421 people have been jailed. Among these, 39 have been sentenced to death, including two children under the age of 18.
1964 fugitives have outstanding arrest warrants, 118 people have been sentenced to death in absentia.
On the morning of December 24th, fighting near Moso Village in Hpruso Township, Kayah State, more than 35 locals including children fled in vehicles and encountered junta forces. They were burned alive in their vehicles.
On December 24th, in Tanintharyi Region, Launglon Township, Ko Kan Kyay (b) Thiha, a mentally ill resident of Nyin Maw Village was shot dead by junta forces on Laung Lone-San Lam Road.
On December 21st, at 10am, a 60 year old Naw Khi, who lived in Htaw Ka Law Khi Village was shot in the head by the 101st Infantry Battalion, in Bilin Township, Mon State.
Leaders of civil society organizations, civilians, activists, journalists, and anyone from all walks of life, including CDM activists, those who was arrested and prosecuted, can contact the AAPP with information on those who have been killed during the Spring Revolution.
People can also send an email about deaths to: [email protected], and
emails about arrests and detentions to: [email protected]