A civilian detained by junta troops has been found dead on November 23rd, in Northern Shan State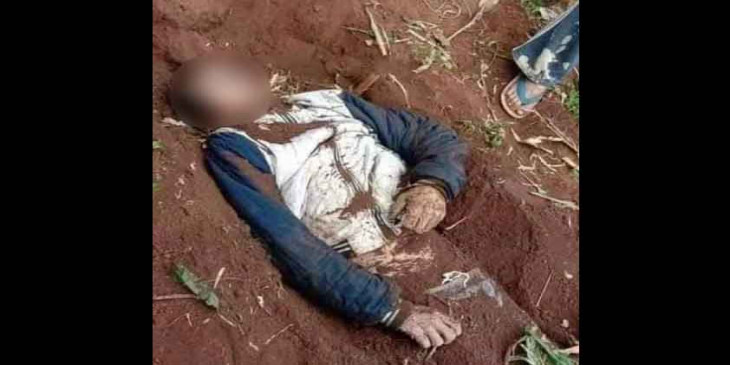 The victim, U La Pine Tane (aka La Pi Too Lwan), a 56 year old resident at Maw Taung village, was detained by junta troops around 6am on November 22nd, while coming back home from his farmland.
"We lost contact with him and he wasn't home at dusk. So we requested an investigation for his disappearance to local security forces under the junta," said a local.
"There was a clash between junta forces and the local PDF near his farmland that day so we contacted Division 99 for the causalities of the shoot out. After 4 inquiries, junta officers finally replied that a man carrying a gun near the farmland was shot dead and where his body was.
"We found his body on the 23rd of November. When the victim left home on his bike, he was carrying a farming knife (to cut the weeds) and his phone in his bag. His body was found by bike in a hard to reach area. He was dressed in the local PDF uniform, cap, and boots. There were imprints of what looked like rope around his neck and he had 3 gunshot wounds in his ribs. He was likely tortured to death. His bag, cell phone, and bike were nowhere near to be found. The way the junta buried him indicated that it had been done quickly, and his remains would have been hard to find if they had found them any later," the local added.
It appears that this is the first time junta troops have tortured a civilian to death in Maw Taung Village, but similar news of torture and killings are frequent all over the country, which leaves villagers concerned.
On November 22nd, in Ban Taung Village, which neighbours Maw Taung Village, there was a battle between the PDF and junta troops, including local security forces under the junta, from Pam Say, Lone Htan, and Tarmoe Nye villages.
"2 men from Maw Taung village were captured by junta soldiers with the accusation of having involvement with TNLA, an ethnic armed force. There were rumors that there were 10 detainees (which was later confirmed not to be true). This 56 year old victim, U La Pine Tane was not associated with the above capture," said a local source.
Recently, the SAC has been strengthening forces and having battles with both MNDAA (another ethnic armed force) and local PDFs.