An Osaka-based cooperation donate 100,000,000 MMK to National Unity Government (NUG)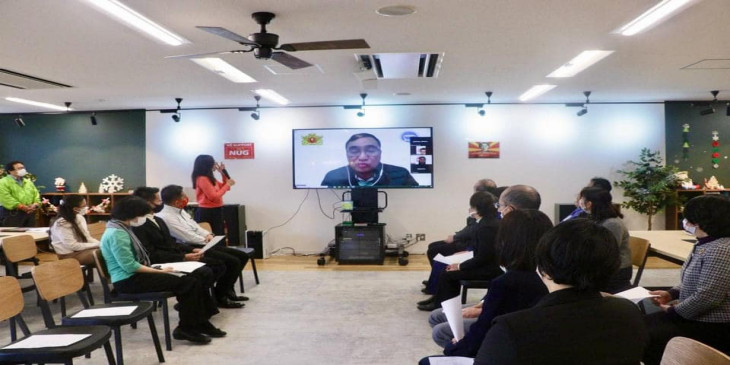 On December 4th, an Osaka-based cooperative donated 6 million Japanese Yen (approximately 100,000,000 MMK) to the NUG in support of the Myanmar people who are under the junta regime. The money was donated by cooperative headquarters and those based in Osaka Yodogawa through the MNSO & Kansai Group based in Japan.
"We've worked hard in past six months to get awareness from the Japanese community in Kansai Region and cooperatives in Osaka about what is happening in Myanmar, how the Myanmar people have been oppressed by the junta. That's why, we believe, we received a lot of donations" said Daw Moh Moh Oo, Chairman of MNSO & Kansai Group.
Mr. Kenji Matsuoka, Executive Director of the Osaka cooperative said that they were glad to have a chance to express the kindness of Japanese people to Myanmar people, who have been facing a lot of despair under the junta and also thanked the NUG for giving them this chance.
The donation money will be spent efficiently for Myanmar people, as required, said Dr. Win Myat Aye from the NUG.
MNSO (Myanmar Nationalities Support Organization – Japan) was founded by Myanmar people in Osaka, Nagoya and Kobe from the western part of Japan, after the military coup took place in Myanmar. Since then, the organization has donated about 500,000,000 MMK to the NUG and will continue to work harder to support more in the future, said Daw Moh Moh Oo.