At least 10 military soldiers die in an attack in Minkin Township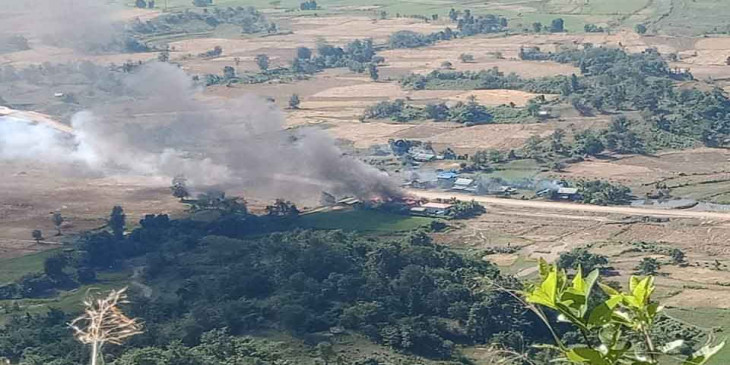 The fighting occurred between a local PDF group and junta forces on the morning of December 15th in Taungdwin Area, Minkin Township, Kalay District, Sagaing Division.
Near the Eastern Wattoe Camp of Pikkhaya Village, fighting broke out between the PDF (MKODF) Battalion-2, Taungdwin PDF (TPDF) 1st Battalion, and junta forces.
At around 8am on December 15th, the local PDF group launched a landmine attack on junta forces , which killed at least 10 soldiers, and the local PDF group was able to withdraw unharmed, the PDF leader said.
After the attack, junta forces set fire to houses and shops on the side of the road, including in Gon Nyin Village.
On December 14th, junta forces reportedly killed and set fire a road worker U Khun Naing and his wife and also set fire to locals homes and destroyed their pets and livestock.
A local PDF group intercepted a group of junta forces on their way back to Kalay Township after they spent the night in Kyauk Tan Village, Kyarpin Tract, Taungdwin Area, Minkin Township, last night. DVB has not been able to confirm the deaths or injuries of junta forces during the fight yet.