Battle continues in Myawaddy Township and refugee's property is stolen by junta forces in Lay Kay Kaw.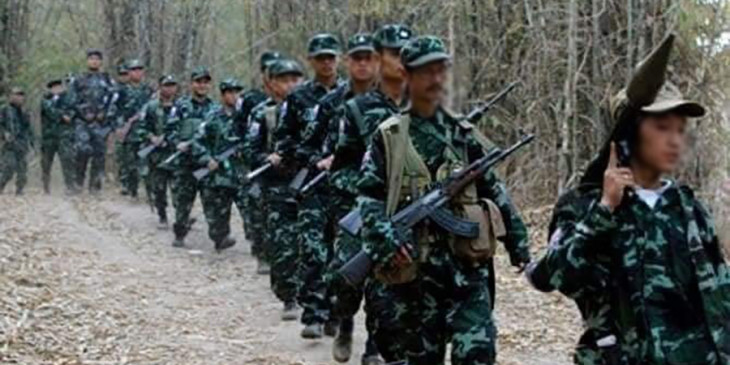 A battle occurred between the KNLA and the junta forces between Phalugyi and Rathaegu Village, south of 9 Mile in Myawaddy, Karen State on January 1st.
The junta forces fired with heavy artillery, and a battle broke out between Rathaegu Kone and the junta forces on an artillery hill (Swal Taw).
"In the early morning of January 1st, the junta forces fired with heavy artillery, and the villagers ran away. Who would dare to stay, during the battles near the village?" said Rathaegu residents.
From December 29th, junta forces fired heavy artillery from Pyithusit Hill, Kyauk Gu Pagoda Hill, and Swal Taw Hill into Rathaegu. The heavy artillery was 60MM, 81MM, and 120MM shells. Moreover, junta ground troops are attacking KNLA allies, according to the KNLA sources on the ground.
The KNU said that the battle took place as the KNLA defended itself due to the military advance into their territory. More than 300 Rathaegu Villagers fled to Taungpaw Gu due to the heavy artillery fire by the junta forces, while some villagers fled to the Myanmar-Thai border, according to the village administrator.
In Lay Kay Kaw, ten thousand civilians fled to safe places, during the battles between the junta forces and the KNLA-PDF allies, however the junta have announced that the refugees could return home.
While the villagers are fleeing the war, junta forces steal property from the nine villages and destroyed the doors of the houses. So, it is unknown who will insure the refugees' safety.
An official from the Karen Armed Forces said, "The members of the junta forces are thieves who steal civilians' property. They also can't guarantee their safety and so, the refugees will need to wait to return".
A KNU official said that if they don't want continuous battles in Karen State, the junta forces need to withdraw and negotiate for peace, in the right way.
The KNLA alliances arrested seven members of the junta forces, including a Battalion Commander, with a civilian car, carrying ammunition on December 30th. They crossed the KNU border, and the KNLA alliances arrested them near their Rathaegu base.