Clashes cause transportation difficulty and food shortages day after day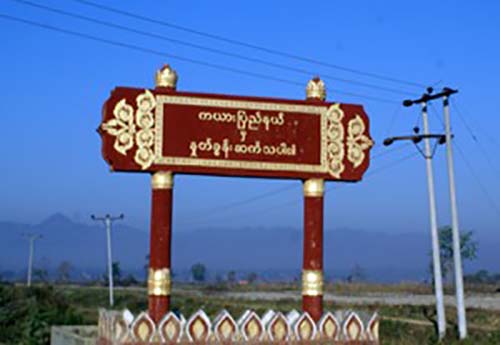 As clashes occur every day in Karenni (Kayah) State, there have been difficulties transporting foodstuffs, prices have sky-rocketed, and there has been shortages of food in other cities.
Although there were no clashes in Hpasawng, Mese, and Bawlakhe Townships, and the Mawchi area, goods trucks could not reach those townships. Therefore, they currently are confronting shortages of foodstuffs, said residents.
"Rice couldn't be bought as we wanted as there is almost no rice stock. Eggs run out of stock as soon as they arrive. Other goods were the same", said a Bawlakhe resident.
Skyrocketing prices and shortages of goods such as a viss (a unit of measure in Myanmar) of eggplant costs 4,500 MMK, 4 eggs cost 1,000 MMK, a viss of tomatos 5,000 MMK, a bag of rice costs at least 50,000 MMK and up to 100,000 MMK, 5 gallons of petrol costs around 50,000 MMK, a viss of oil 8,000 MMK, and a 1,000 MMK mobile top-up card costs 1500 MMK, said residents.
Such transportation problems have also caused shortages of petrol and diesel, said residents.
"Petrol has gone out of stock, rice and others couldn't be bought in Hpasawng. Electricity has been cut off and it could be said the basic food-stuffs have also gone out of stock. We have to buy little by little from there and here. As Mawchi's people also came to buy goods here, even the locally produced agricultural products here were out of stock", said a Hpasawng resident.
A Loikaw resident who sells foodstuffs at Mawchi said, "in order to reach those townships, we have to go through Loikaw, Demoso, Hpruso, where clashes are erupting, due to the risk to our lives on the road, no one dares to transport their foodstuffs to them. The stuff sent from Loikaw had all gone bad, tomatoes were rotten, everything that was good at Loikaw have gone rotten on the way".
Karenni Nationalities Defense Force (KNDF) issued a notice on December 1st stated, the civilians to not use the Loikaw-Demoso-Dawtamakyi-Bawlakhe Road, which connects Loikaw-Demoso-Bawlakhe Townships, and the road would be blocked from December 3rd, as junta forces have been conducting troop movements/reinforcing, and provisions transporting on the road.