Four battles within one day in KNU Brigade 5 area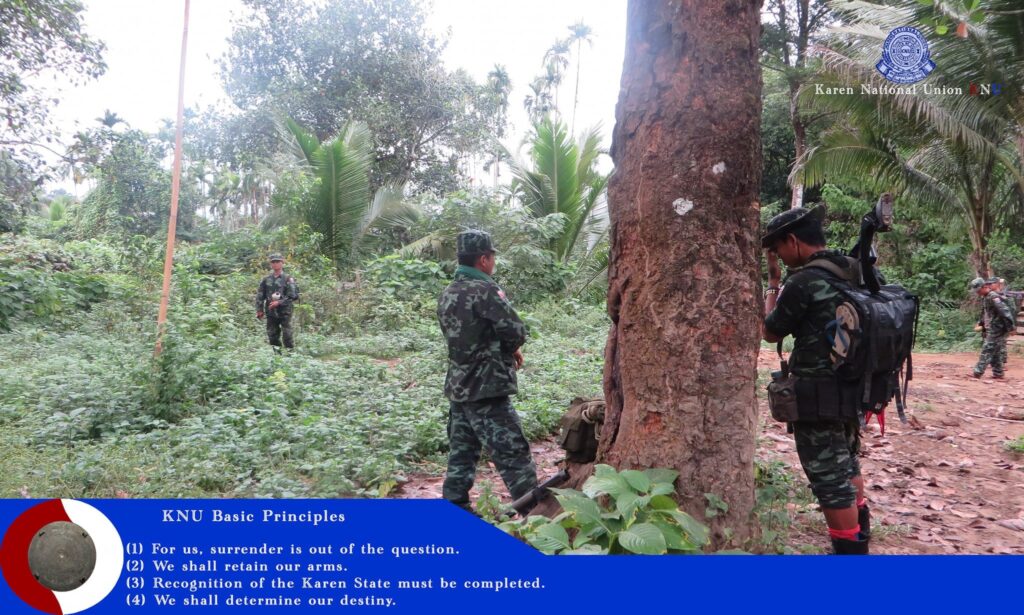 In the area of Karen National Union (KNU) Brigade 5 in Hpapun District, there were four battles between the collaborative force of KLNA and PDF and junta's forces in just one day. As announced by KNU Mutraw News Media, more than six junta soldiers died and seven injured reportedly.
On December 6, the KNLA planted a mine attack to Junta forces Ka-Ma-Ya 407 between Mye Ni Gone and Htee Ga Lo troops, which resulted in death of one junta soldier diet and one in injury.
On the same around 2:30 pm the collaborative force of KNLA and PDF conducted a guerrilla attack. Four junta soldiers died, six were injured and three soldiers from KNLA injured reportedly.
Similarly, there was also a battle between PDF patrolling in Flapkho and junta forces Flapkho-Kuday and another battle in Wakale Tu area. At both times, the exact number of death from junta's side was unknown, but KNLA stated that they found one dead body of a junta soldier while clearing the area.
Junta council forces carried three hoses for food transport and 18 donkeys by three military vehicles in KNU Brigade 2 area. They even scouted the location of KNLA Battalion area 7 in Nyaung Lay Pin District of Brigade No. 3 by using drones. KNU Mutraw news media stated that 10 military vehicles carrying junta soldiers were sent to Muthhe region in Brigade 3 No. 9 Battalion.