Galon PDF attack during the cremation of bodies of junta forces killed by landmines in Depayin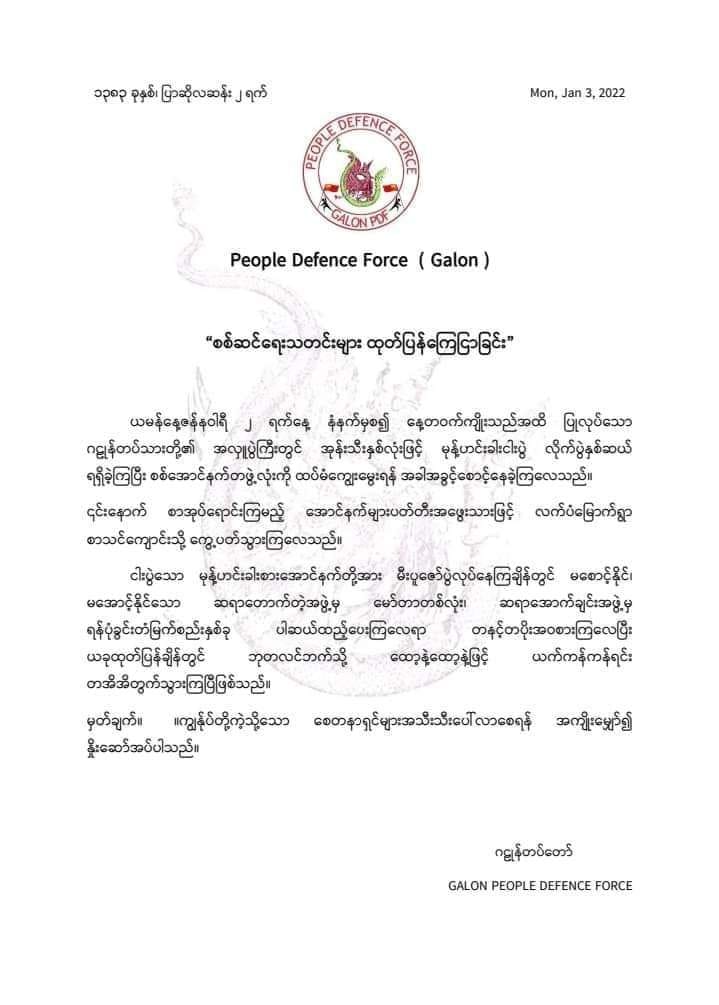 The Galon PDF attacked the junta forces with landmines in Sagaing Region, killing five and wounding several members of the junta forces on the morning of January 2nd. While their bodies were being cremated that afternoon, the Galon PDF attacked with heavy artillery leading to eight others being wounded, according to the Galon PDF.
The attack happened near Latpanmyaut Village, on the Depayin-Butalin border, and it was claimed that junta forces had raided and destroyed every village.
"As the bodies were being cremated, three mortars fired, and two more shells collided. A truck was mobilised to pick up the wounded. An estimated eight or more died, and several others were wounded. A total of at least 28 of them were injured yesterday," the Galon PDF said.
The bodies and the injured were taken to Letpadaung North School after the January 2nd battle. That afternoon, the Galon PDF attacked again, and later, they left for Butalin Township, carrying the wounded.
Casualties of the junta forces have not been able to be confirmed. Locals said that they heard explosions from Latpanmyaut Village on January 2nd.
According to locals, the junta forces who were attacked by the Galon PDF, had recently arrested civilians as their guides, and later, killed them.
At present, junta forces are raiding Depayin, Taze, Ye Ou, Khin Oo, and Kantbalu Townships in Sagaing Region. In addition, they are killing innocent civilians, setting fires, arresting and torturing, and looting.