Helicopter Bombing of Pinlebu and Indaw by Junta Forces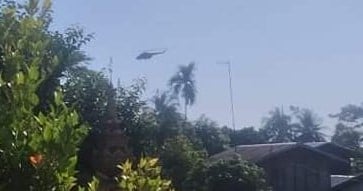 On the evening of January 4th, the junta forces launched a bomb attack by helicopter which led to some civilians' houses being burned down, according to the Pinlebu Revolution Force (PR). One of three helicopters from the junta side-bombed and shot at Sartaung Pone Ingar village, in the south of Pinlebu at around 3 pm on the 4th of January, setting some houses on fire.
"We heard that the other helicopters had deployed troops, but we still don't know the exact numbers," the PR said. It is unknown how many houses were set on fire.
The junta forces attacked with at least eight bombs with the airstrikes onto Gahe village in Indaw Township, Sagaing, on 4th January morning, according to local PDFs.
"There are airstrikes in Gahe village, Indaw Township, and along with the Mel Zar Yoe, there are many troops in Henu Alel village and Pinein village," the Indaw Revolutionary Group said.
The Tigyaing Revolution (TR) said that the MI-35 helicopter dropped eight bombs on Gahe village in Indaw Township and that the helicopter had just returned to Katha.
The junta forces are using the helicopters to transfer their troops, and also to shoot and bomb villages in the Sagaing Region.