Junta burned down Kone Sii and Wai Mula villages, 32 civilian homes lost in fire, two PDF soldiers arrested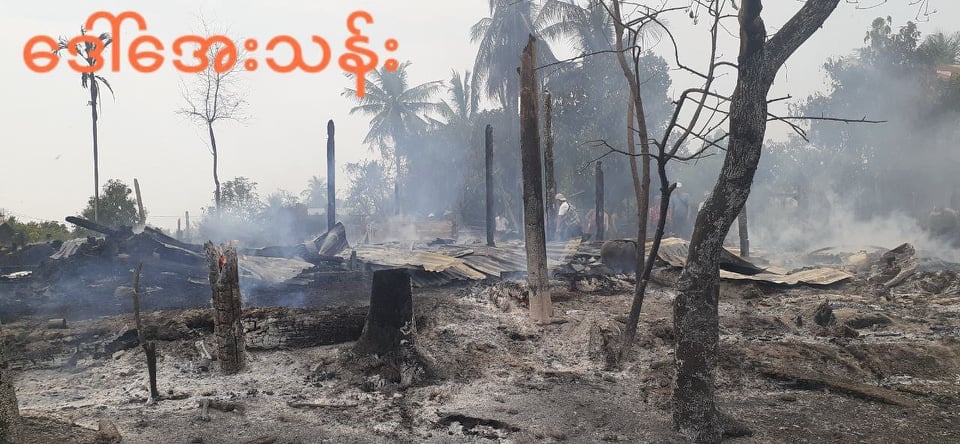 SAGAING – The junta forces reportedly invaded the Kone Sii and Wai Mula villages, Kyunhla Township, Sagaing Region, on April 15 and 16, and set them on fire resulting in 32 civilian homes destroyed.
The arson was committed by LID 363 and 367. Kone Sii Village was set on fire on April 16, destroying 7 houses, and Wai Mula Village was set on fire on April 15, at around 5:30 PM, destroying 25 houses.
"Junta soldiers invaded Kone Sii Village on April 12 and burned 12 civilian houses down on April 16. They occupied the village for six days and during their stay, they went and burned 25 houses in Wai Mula Village down. They robbed the residents of their cattle and livestock and stole their belongings during their occupation," said a local civilian.
It's reported that two PDF soldiers were arrested in the junta invasion of Kone Sii Village. Their whereabouts are unknown and their lives are in danger.
Junta forces also invaded Khapaungyone Village, forcing thousands of residents from the three villages to flee to safety. There's an urgent need of medical care for IDPs who are unable to return home due to fears of junta forces invading their village again.