Junta Forces Sealing Houses in Taze Attacked with Improvised Explosive Device — Five Killed, Several Injured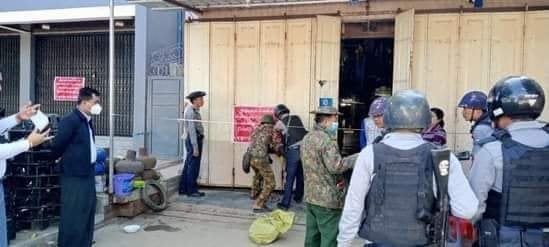 Five soldiers were killed and many others were injured in the improvised explosive device attack on a group of the junta's militants in Taze, (Sagaing Region) this evening, according to the Taze Phoenix guerrillas.
At around 3 pm on January 1st, "The Tangse Phoenix attacked the junta forces who were sealing public houses with landmines near the southern part of the Taze Township Land Registry Office as a New Year's gift for the people," as recounted by Taze Phoenix guerrillas.
"Initial investigations have revealed that five were killed and there has been extensive damage," said the Taze Phoenix Force.
On December 17th, one junta soldier was killed and one was injured when a Phoenix attacked a mine near City Hall.
Currently, the junta regime is destroying, robbing, looting, and engaging in acts of arson in Taze township. They have also been sealing up houses of pro-democracy activists based on accusations of PDF connections or for supporting the PDF.