Junta forces use seven locals as human shields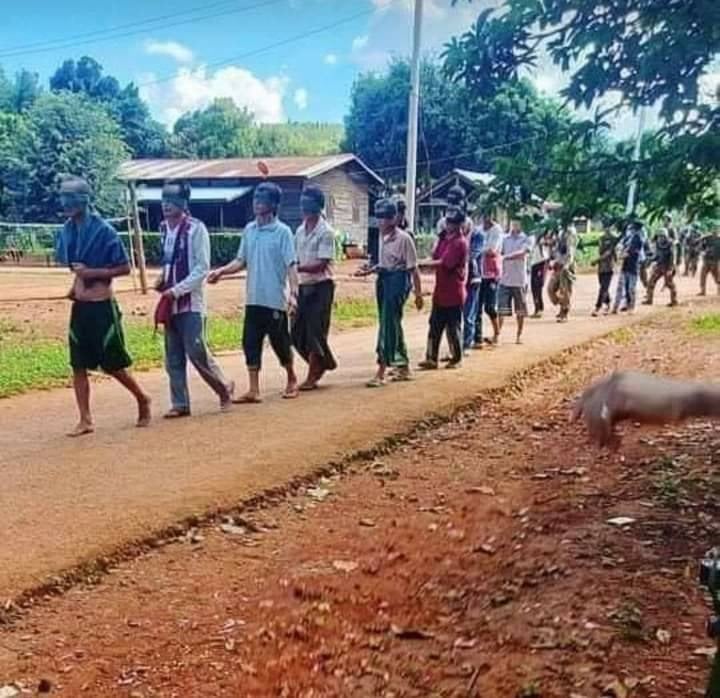 Locals say that junta forces arrested seven locals and were using them as guides and human shields in Tigyaing, Sagaing.
"Over 100 terrorist junta soldiers are desperately searching for local PDFs and arresting locals to use as guides and human shields," said the Katha PDF.
"Through the mountain range between Katha and Tigyaing, over 150 junta soldiers are marching through. Some came down from Katha too. They've arrested 7 locals as human shields/guides," they said.
However, the Katha PDF did not specify which village the locals have been arrested are from.
The Ministry of Defense of the NUG also stated that on December 20th, junta forces threatened 60 residents of Thayetchin Village to follow them to use them as human shields.
They also threatened the resident women hiding in the village monastery that they will kill them if the PDF forces attack junta forces.
During the last few days, equipment of a timber company which is collaborating with the junta has been destroyed, and junta soldiers traveling across the Ayerweddy River have been attacked.
Locals say that junta forces are currently searching desperately for PDFs and are looting houses and using residents as human shields.