Junta office orders to report social media page of Khit Thit Media to take down from facebook social media following coup leader's remark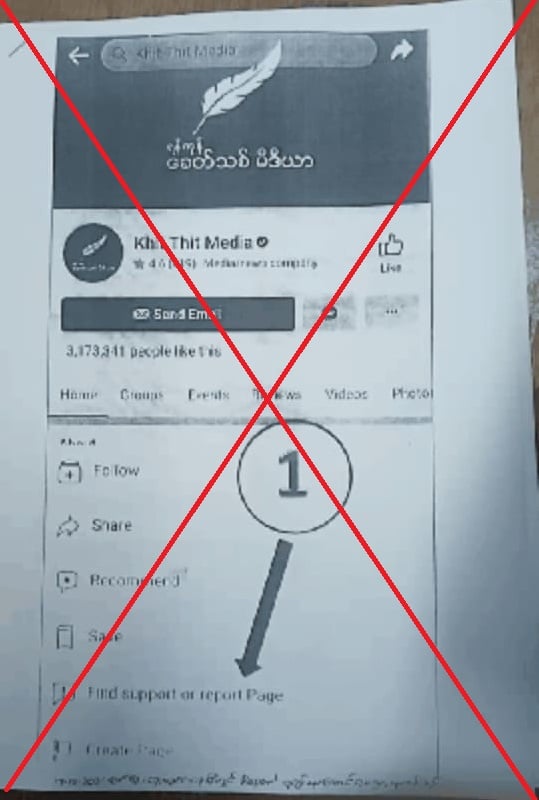 Junta leader Min Aung Hlaing said at the 74th anniversary of the Air Force in Meikhtila that the media was causing dissention between the army and the people. Military council office in Nay Pyi Taw issued an instruction to report social media page of Khit Thit Media following their leader's remark.
Reports need to be done simultaneously and will be conducted at 1:00 pm on Dec 17 and after that continuous reports will have to be done, according to the instruction.
Junta leader Min Aung Hlaing, on Dec 15, said that propaganda news are being spread to discredit the military and to make the relationship between the military and the people end up on a sour note. He, then, called on members of the military and their families to learn about current political situations and reminded his people that special attention needs to be paid to the four factors: security of war news and documents, security of military equipments, security of military staff and security of military operation and training.
Khit Thit media has consistently covered the war crimes committed by military junta such as the fires in Kinma village, murder of 11 people burnt to death in Salingyi and killing of civilians in Kyeemyindaing with miltary car ramming into the crowd. The junta claimed that those are all wrong information and refers to Khit Thit media as destructive media. The Coup d'état revoked the media license of Khit Thit Media on March 8.
Photo: Instuctions issued by military council office to report social media page of Khit Thit