Junta reinforces in Bilin after 2,000 flee in fear of battles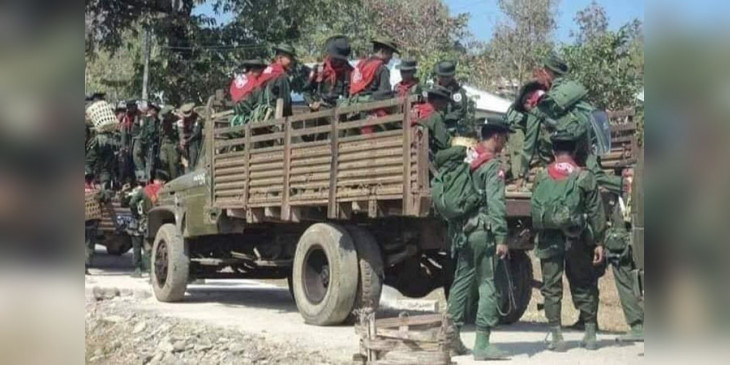 Junta soldiers and allied troops have been reinforcing and frequently operating in KNU Brigade 1 territory, Bilin in Mon State.
Over 2,000 Bilin residents from Kya Thaung Seik, Htaw Klaw Htah, Htee Hpa Doh Khee, Gone, and Lay Khawt Htay Villages fled their houses as they feared incoming battles between advancing junta soldiers and the KNLA coalition.
After the KNLA Brigade 1 and PDF coalition had captured Kya Thaung Seik BGF camp in Bilin on December 17th, the junta and BGF combined troops received reinforcements to Win Ter Pan and Lay Kay BGF camps and started operating in the area.
"War is looming in KNU controlled territories. It might happen here. Cut-throats (junta soldiers) abduct unarmed villagers and burn down houses when they lose to other armed men. Locals are running because they don't want to be taken. I think we will have to spend our whole lives living as refugees." said a Kya Thaung Seik villager.
It was reported that the military's Khamaya-201, which is under Brigade 22 and BGF 1013 and 1014 combined forces were doing the military operations.
Junta forces clashed with the Karen National Liberation Army (KNLA) near the KNU livestock zone on the Myawaddy-KawKareik Asia Highway on the morning of December 26th.