Junta speedboat hits four mines on the Irrawaddy River in Tigyaing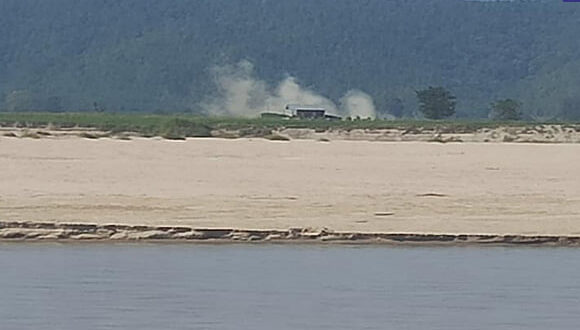 A junta military speedboat traveling on the Irrawaddy River near Tigyaing Township, Sagaing Region, was hit by four mines in the middle of the river, according to a news release from Fox Army-HPDF.
At 11am on December 25th, the speedboat carrying weapons, rations and about 30 junta soldiers was making its way upstream to Katha from Tigyaing, according to the news release.
"A high-speed vehicle carrying ammunitions, rations and about 30 junta soldiers was attacked with four mines laid by the Fox Army at a sand flat in the middle of the Irrawaddy River. No sooner was the boat hit with mines,
the engine stopped and there was random fire with heavy and light weapons (60mm rounds, 40mm rounds, and small arms). The boat, then, continued upstream, leaving a dark cloud of smoke behind," read the Fox Army-HPDF news release.
The exact extent of the casualties from the attack is still unknown, but PDF members were able to retreat unharmed.
The artillery shells fired by the junta hit an island forcing local farmers to flee, but no local residents were injured, according to the Fox Army.
Also on December 6th, a group of about 60 junta soldiers, led by Nay Oo Hlaing, a lieutenant colonel, was attacked with mines. Junta troops and local PDFs exchanged fire with light weapons, killing about 15 junta soldiers and injuring many, according to a statement from the Fox Army.