KNU and allied forces reclaim Htee Mae War Khee base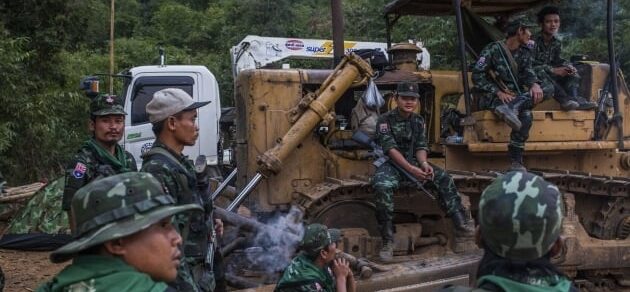 The junta base in Htee Mae War Khee Village, located south of Myawaddy Township, close to the Myanmar-Thailand border, Kayin state has been retaken by allied forces, led by Kayin National Union (KNU) on the 27th of December, reported a source close to the allied forces.
"We now have Mae War Khee. We are able to control the ground from Mae War Khee to Me Htaw Tha Lay" said a source from the allied forces.
The Kayin National Liberation Army (KNLA), Kayin National Defense Organization (KNDO), Developed Kayin Buddhist Army (DKBA), led by Brigadier General Saw Kyaw Thet, and the PDF of the National Unity Government (NUG) raided the base at 4am and were able to reclaim Htee Me War base.
The casualties from both sides are yet to be confirmed, stated news sources from the allied forces.
After retaking the Htee Me War Khee camp, at aroung 2:30pm, the junta made an airstrike on the camp, said the source.
According to the administrative group of Kyaung Lay Kay Kaw Township, the junta sent an unmanned drone for surveillance over Lay Kay Kaw.
Although Htee Me War Khee camp is now under the control of the KNU, the junta forces are still in Metta Lay Myaing Village, the tension is escalating and clashes can start at any moment, reported a news source.
A source stated that the junta raided Htee Me War Khee camp on the 25th of December using fighter jets and heavy weapons, and resulted 4 PDF members killed during the attack.
Two days later, on the 27th of December, the KNU attacked and reclaimed the Htee Me War Khee camp.