KNU announces five new self-administered "Kaw" (land) zones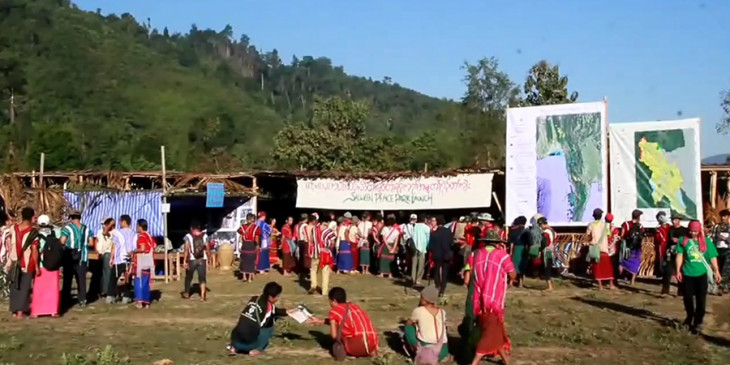 BAGO – The KNU's Central Land Committee had announced that they had officially recognized five "Kaw" (meaning Land) regions to be self-administered by indigenous Karen people.
The announcement was made on 14th April at the Thawthi Taw Oo Indigenous Park in Maw Thay Dae Village of Kaw Thay Dae group in Htan Ta Bin Township, Taungngu District, Bago.
A total of five areas including Kaw Thay Gu inside Hpapun (Mutraw) District, four areas in Taungngu District, Kho Bwal Dae Kaw, Mwi Long Al Dae Kaw, Kaw Yaw Mu Pal and Kaw Mu Lar Hay were given legal certifications to own and self-manage those lands.
"Kaw" is a land area that is traditionally shared and managed by the local Karen ethnic groups. These land management practices derive from the traditions, belief and culture of the indigenous Karen people and their practice to protect and conserve biodiversity.
This is the first time in Karen's history to establish a "Kaw" land management system, intended to fulfill the ethnic vision of building peace and self-legislation on the Karen ancestral lands.
These "Kaw" regions comprise farmland, village, religious areas, and areas to protect and conserve forest and biodiversity, and there will be community-led rules and regulations including various cultural and religious restrictions.
The community representatives discussed the future plans regarding the "Kaw" administrative zones. The KNU's Central Land Committee said that the KNU would now continue to implement the relevant land management processes according to the land policy without waiting for the advent of a federal democracy.