Minister Thaung Tun sentenced to 9 years imprisonment; Deputy Minister Kyaw Lin, 20 years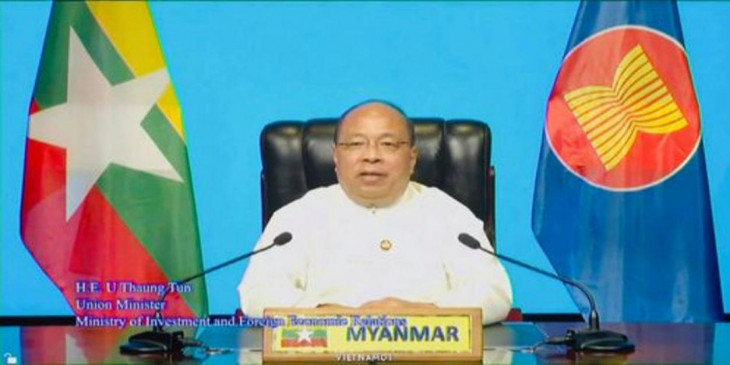 NAYPYIDAW, MYANMAR – Minister for Investment and Foreign Economic Relations under the NLD government, Mr Thaung Tun was sentenced to 9 years imprisonment under anti corruption law, article #55 and Construction Deputy Minister, Mr Kyaw Lin was sentenced to 20 years imprisonment.
In addition, Construction director-general, Mr Aung Myint Oo was sentenced to 4 years imprisonment with labor under anti-corruption Article 55/63; director-general Mr Ye Min Zaw and Mr Nay Aung Ye Myint were each sentenced to 2 years imprisonment with labor, according to the announcement by junta information department on April 22.
When Minister Mr Thaung Tun was in service, he had given permission to a private company to rent a 9.22 Acre-land in upper Pazundaung Road, Mingala Taung Nyunt Township, belonging to Consumers Department for 30 years, without opening a tender, resulting in a loss of US $ 1.3 Lakhs ( 130,000) per year for the rent and a loss of US $ 8.9 millions for the premium to use the land. For this, he has been accused of corruption and has been sentenced to 9 years imprisonment.
Deputy Minister Mr Kyaw Win received a fund of Kyats 562 million which was to be used for maintenance of the road connecting 85th mile/0, Monywa -Yagyi-Kalaywa Road, MinKin Township, Sagaing Division to Kyar Pin Village. Director-General Mr Aung Myint U has allowed Deputy Minister Mr Kyaw Lin to use the above amount of money.
Director-General Mr Nay Aung Myint has also used the fund reserved for the maintenance of bridge (Kyats 120 million) to build a new bridge, "Kyauk Oh Bridge" in Min Kin Township causing a loss of money to the country, according to the junta regime.
In addition, Mr Kyaw Lin also received Kyats 30 Lakhs (3 million) from subordinates through Mr Ye Min Zaw, Director General, Department of building. Also during his visit to MinKin Township, he went to pay homage to the monks and donated 68 sacks of rice without paying, according to the accusations.
The prisoners still have no opportunities to defend themselves from the accusations made by the junta regime.
Since the coup d'etat, the junta regime has detained President Mr Win Myint, State Counselor, Ms Aung San Su Kyi, including NLD government Ministers and Division Chief Ministers for various charges of corruption but there has not been any evidence at all.