More than 29 citizens, including women, abducted by the terrorist SAC in major cities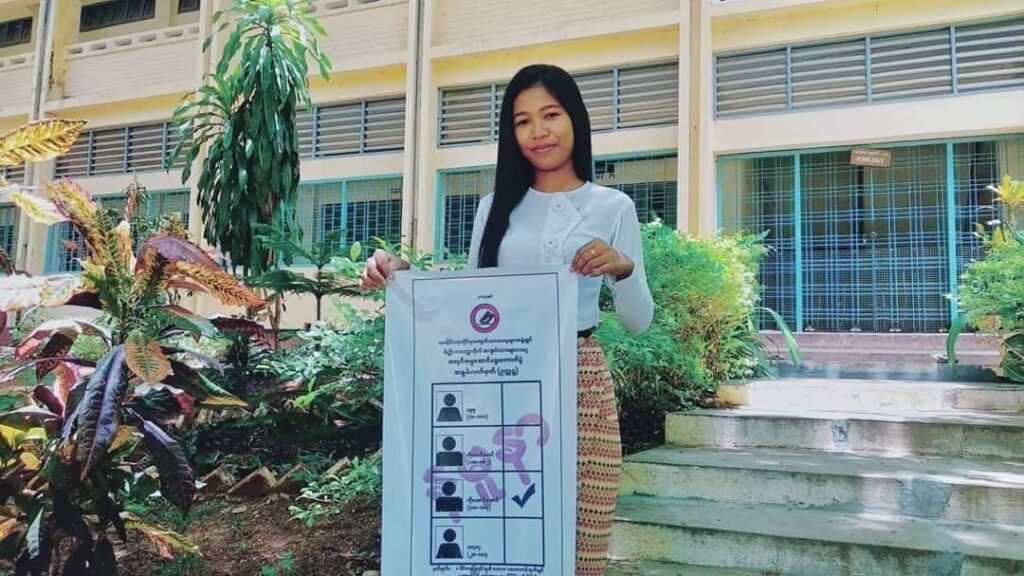 The SAC have abducted more than 29 citizens in Yangon, Mandalay and Tanintharyi Division over the last few days.
Abduction of 8 innocent people accused of bombing Mytel Tower in Mattaya Township
===========================================================================
A Mytel Tower in the Southern part of Out Taung Kine village in Mattaya Township, Mandalay Division, was bombed. In retaliation, the SAC mobilised 4 military trucks, raided the village, and abducted 8 villagers, as reported to Yangon Khit Thit Media by the villagers.
The abducted people included two women and six men. Houses were also raided. One of the abductees' mother begged them not to make the arrests, but the ruthless SAC told her she would get back the dead body only.
Abduction of Ma Thae Su Naing and her father by SAC in Meikhtila
At 5 p.m on 22nd November, Ma Thae Su Naing, former president of Ba Ka Tha University Students Union and her father were abducted by the SAC very violently, with live ammunition used, according to local people.
Ma Thae Su Naing is a CDM teacher. The SAC grabbed and took all the mobile phones from her house. No one knows where these detainees are.
Abduction in Tanintharyi Division
On the night of the 21st of November, eight innocent local people were abducted as hostages by the SAC, along with houses being raided in Kan Pauk village, Yay Phyu, Tanintharyi Division.
The SAC initially had a list of people to abduct. "As a result of not being able to find the people they wanted, they abused, yelled, and beat the people. They took anything they wanted from the empty houses and destroyed everything. Most people they abducted were elderly people," according to one of the villagers.
Abduction in Thingangyun Township, Yangon
At 6:20 p.m on the 22nd of November, eight women were abducted on Bayint Naung Road, Thingangyun Township, Yangon Division, according to people nearby.
"Loads of SAC troops came to Kyee Pwar Yay Ward on Bayint Naung Road and abducted eight women. No one knows who and where they really are now," one of the local people said.
Abduction in Mandalay Division by SAC
With the accusation of being a PDF member, the SAC abducted Ko Kyaw Htet Wai, an active participant of strikes and protests in Yon Pin village, Taung Thar Township, Mandalay Division. They tied his hands behind his back and he was beaten, right in front of the public. Also, ten houses were destroyed and valuable property was stolen, according to the local villagers.
Abduction in Kamaryut Township, Yangon
Between 3pm and 8pm, on the 22nd of November, the SAC raided 15 places Kamaryut Township, which resulted in the abduction of one man and one woman. The victims were reportedly local people from the township.