Myanmar media outlets did not recognize the newly formed Myanmar Press Council (MPC) by the junta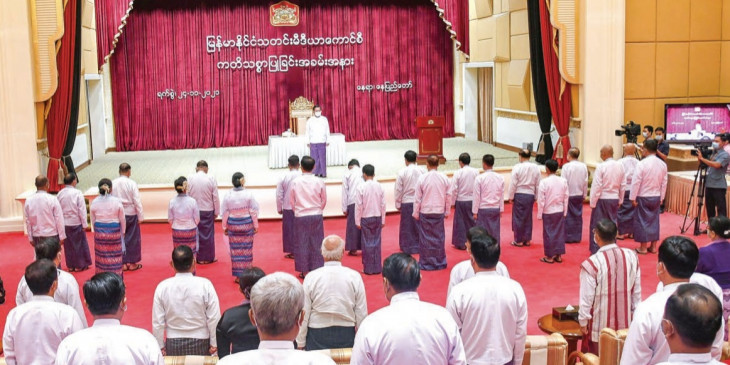 Myanmar media outlets, reporters and journalists said they did not recognize the newly formed MPC who were influenced by the junta.
The inaugural meeting of the new MPC was held on November 24th, 2021 in Naypyidaw. The junta leader Min Aung Hlaing, Chairman and the members of MPC who were arbitrarily selected and assigned attended this meeting.
A chief editor of an ethnic media outlet said, "this was absolutely unrecognizable because this organization could not contribute to media freedom in Myanmar and I thought, these members will work only for the junta".
Another local reporter said, "In a nutshell, it was just the junta's press committee. These members were also arbitrarily assigned by Junta. So, the MPC did not represent Myanmar's media, they're just standing for Min Aung Hlaing".
After the military seized power in February 2021, the junta has violently arrested many journalists and also revoked the licenses of a number of media outlets. Many media operators did not recognize the junta as the government.
"They just illegally seized power of a country. They couldn't be represented as a government. They were just trying to make records. We don't recognize the MPC or any other committees formed by junta. It was another attempt to strengthen their power", a reporter said.
In the inaugural meeting of the new MPC, Min Aung Hlaing said, "current local media outlets were more like setting the fire than killing it. MPC need to manage all of these unethical media outlets".
The press freedom situation in Myanmar has been worsening steadily after the coup and according to a recent report, more than 30 journalists are currently detained in the prisons. Many reporters and journalists have been brutally arrested and charged. Additionally, the Junta revoked eight independent local media licenses. Today, most editors and reporters tried to report during this crisis and refrained from identifying themselves as members of the press.
Following the coup, the Myawaddy (MWD), MRTV channels, and daily newspapers have become primary sources of propaganda with the intention to spread fake and misleading news. Many former MPC members resigned after the coup. Then the Junta arbitrarily formed a new MPC in April 2021.
Photo- MOI