NUG declares: 56 Junta soldiers killed and 35 injured in a single day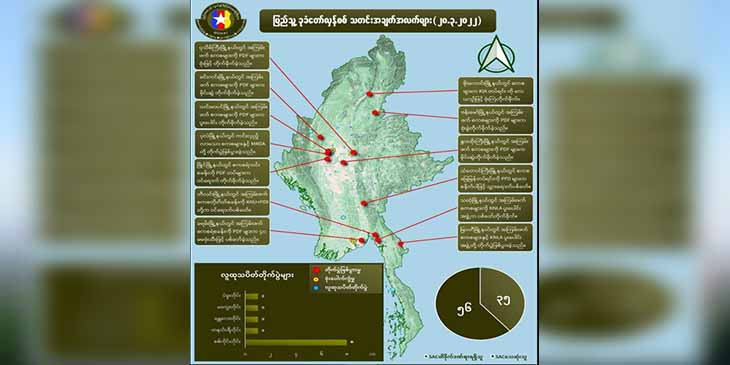 NUG confirmed that 56 junta soldiers were killed within a single day on March 28th.
But the death toll on the ground will likely be more than that of reported data, and a total of 35 were also injured, confirmed by NUG.
According to defensive rights, the civilians in the entire country are opposing the Junta for their survival against the atrocious acts committed by the Junta.
The civilians hold peaceful protests everywhere in Myanmar for building federal democracy and for the cessation of dictatorship.
NUG also stated that there were peaceful strikes in Bago, Magway, Mandalay and Tanintharyi Divisions each and 8 strikes in Sagaing Division yesterday.
Moreover, NUG also declared that 2095 junta soldiers were between 7th February and 6th March due to the progressive number of defensive battles by the civilians.
This report is the No 6 monthly report by NUG after they declared the State of Emergency in the entire country. And 637 persons were injured according to the report.
No news has been reported by Junta on the death toll of their soldiers or the situation of the battles that are being fought in the entire country every day.