NUG sold 2 millions bond within 2 hours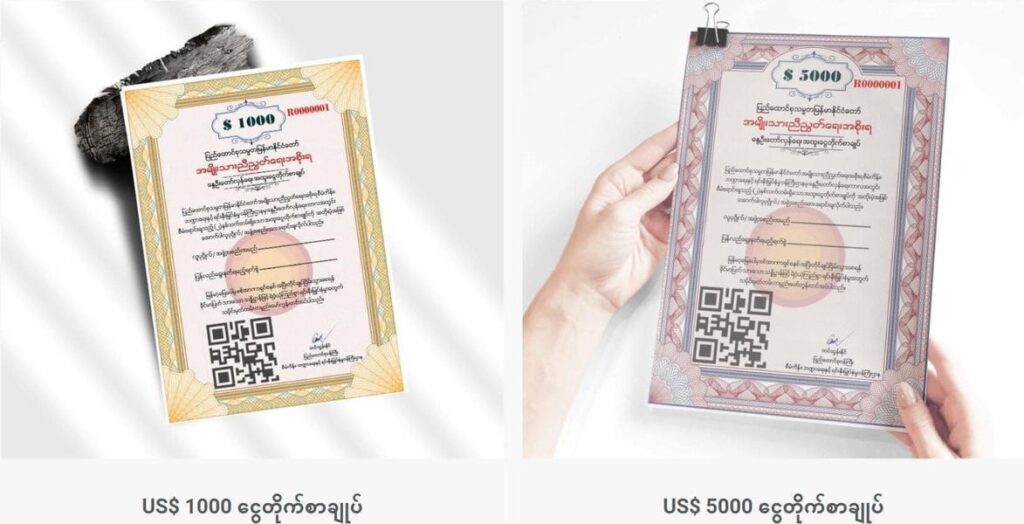 NUG has started selling the Treasury bond today on 22 November and there have been lots and lots of buyers from local Myanmar and Myanmar who are in abroad.

"I cannot buy it with the local bank account so I asked my friends from Thailand, Malaysia, and Singapore to transfer the money. I also asked help within the people I know. The local Myanmar just has to transfer the Myanmar Kyats. I led the people in abroad buy it with the foreign bank account." said the citizen from Yangon.

Later on, there might be people who will offer services to buy the NUG's Treasury bond in Thailand, Malaysia, and Singapore said one of the Myanmar in abroad.

"There are many people who ask for help to buy the Treasury bond by giving the cost in Myanmar Kyats. I also bought the amount that I can but I cannot buy a lot. I think there should be transfer agencies for the service to buy NUG's Treasury contract. Only Myanmar in abroad are able to do it so I think there will be agencies like that sooner." said Myanmar currently in Thailand.

NUG has also announced from NUG's official news media PVTV that the Bond has been sold out for 2 million dollars within 2 hours.

There are four types of bonds with different prices. The maximum is 5000 dollars, follows by 1000 dollars, 500 dollars, and 100 dollars.

On 9 AM in the morning, on 2021, November in order to set the new era and history for Spring Revolution, the Treasury bond will be sold. "With a revolution winning spirit, a bold and decisive determination, please carefully check and purchase" said NUG's financial minister U Tin Htun Naing.

Treasury bond can be bought from https://www.unitedbonds-nug.org and the privacy and data of the buyer is kept well so NUG suggested not to be worry and please participate with full of trust.

The transfer system has been prepared to be able to transfer safely, and by filling buyer's privacy details such as the names and relations will be more trusted. You can buy it individually or as a group.

The representative for the group to buy the contrast has to fill the details exactly for each person who is involved in buying the contrast. The contrast will be given individually although it is bought as a group. Every person from the group must at least buy 100 dollars. The instructions and details about buying the contrast is given on the official pages of National Unity Government; Ministry of Planning, Finance and Investment, Pyidaungsu Hluttaw Representative Committee.
In order to dismantle the fascist SAC army, the buyer, the person who helps to buy, the person who encourages and suggest to buy the Spring Revolution Treasury's Bond are commends submission of achieve by the NUG.