Nyang Hla Village targeted by junta forces, with airstrikes, killing a civilian, and razing it to the ground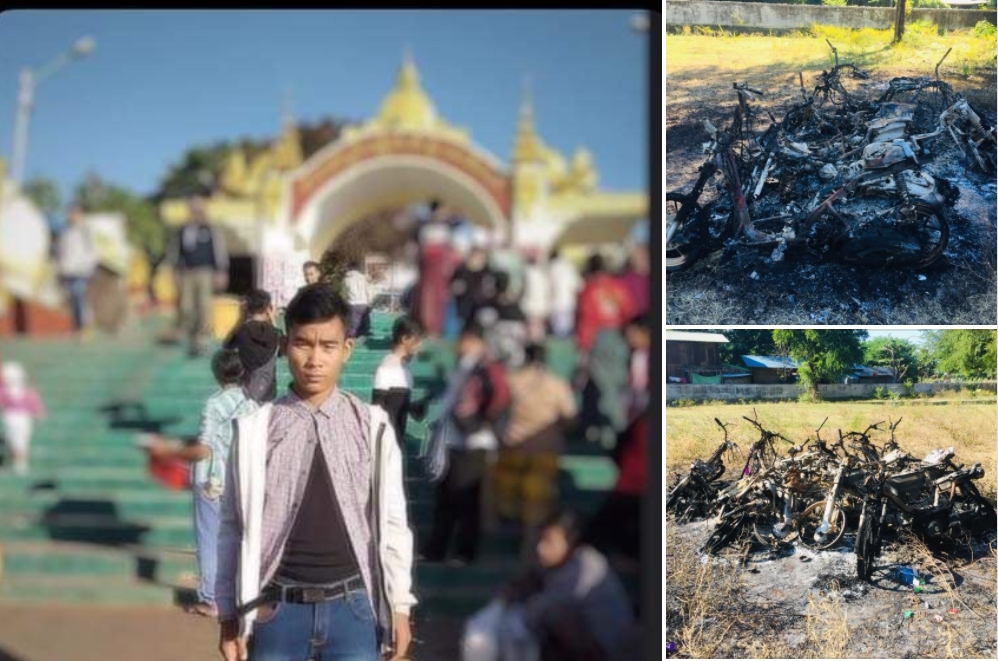 Mg Hein Min Tun, 26, was killed during a massive, offensive strike from junta forces in Nyaung Hla Village, Depayin Township, Sagaing Division, on the evening of November 27th, according to villagers. Junta forces followed airstrikes on the village with ground troops, who raided and then destroyed the village, according to locals.
"Mg Hein Min Tun's body was taken by his parents and buried. They had to get to it quickly and bury it. We are furious because Nyaung Hla village was deliberately targeted. Do they need to do this much? At first, we thought that they came by helicopter because a battle was about to begin, but it wasn't. It was clearly their intention to destroy our village. Army forces have been reinforcing for several days before the attack. People have been fleeing since then. No one from our side started the battle first", said a local.
The NUG's Ministry of Defense released a statement that junta soldiers raided Depayin's, Nyaung Hla village with an airstrike and a total of around 150 ground forces. Following this attack, junta forces, who were stationed at Segyi village, were attacked by Shwe Bo District People's Defense Force, Township Civilian Forces, Thunderstorm Group, and other forces, in the early hours of November 28th. There were close clashes. Not less than 25 junta soldiers were killed and one member of the People's Defense Forces was injured. During the fight, junta forces fired artillery shells into a village, forcing people to flee. They then stormed it and looted people's property.
Also, the IDP camp of Yeshin Village, in Gangaw District, Magway Region, was raided by junta forces on November 30th, the bodies of three civilian refugees who were killed were found burned. According to a local source, one victim was from Yeshin Village and two were from Ingyun Village.