Death toll reaches 20 in Namkha Village after raid by Junta forces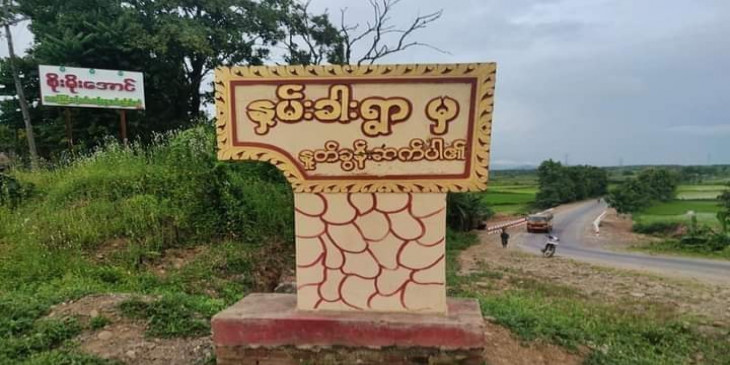 According to local residents, junta forces burned 3 houses and more than 20 bodies have been recovered in Namkha Village, Gangaw Township, Yaw District, Magway Division.
Between December 17th and 19th, junta forces have burned down more than 60 homes on five occasions in Namkha village, according to a Gangaw resident.
"What they want is Namkha and to reduce the number of places we can live. They want to strengthen their stronghold in South and North Khayan in Kalay Township. At present, they only have Namkha left and they are advancing into nearby villages." said a local.
The junta used helicopters and attacked on the afternoon of December 17th, while the leaders of the PDF held a meeting.
The junta attacked Yeemyat Village in Ye Oo Township on December 20th. Two helicopters were used to attack and 3 helicopters were used to deploy ground troops of 150 soldiers.
The junta have stated that four people were killed and weapons were confiscated during a raid on a KIA, NLD, and PDF meeting, but a resident said that it is just a fabricated report.
Local residents said that junta troops destroyed 7 houses and at least three villagers had been shot.
"Yesterday, between 1pm and 4pm, they raided and set fire to at least seven houses and several motorcycles. At least three people got shot. There were a total of five helicopters, 2 fighters and 3 transports. The two fighters (helicopters) were firing from above while the transports (helicopters) were deployed at least 150 troops. They attacked the village with about 200 soldiers, including those stationed near the village. It is indiscriminate shooting of unarmed civilians. It is not a war with PDFs, so it is a war crime." said one resident.
Up until the morning of December 21st, junta forces were stationed in Ye Myat Village, and deployed troops to nearby Uyin Village and Khaw Sap Kone Village.
On the morning of December 13th, junta forces and Pyu Saw Htee members burned 60 houses in Kae Bar Village of Ayartaw Township. More than 4,000 villagers were displaced by the attack.
A Kabar villager said that the junta forces had used more than 100 soldiers to carry out the violence, and that unarmed civilians should not have been oppressed this much. Villagers have struggled to find food and shelter and have not dared to return to their village.
"We are praying for the immediate elimination of such a violent junta regime. We have been trying for a long time to build a house," said a Kebar villager.
The junta is deploying troops from Monywa and Kale in the northwestern military zone, and has been conducting a series of shootings and burning to intimidate local people.