In Htan Tlang City, the junta military burned and destroyed more civilian houses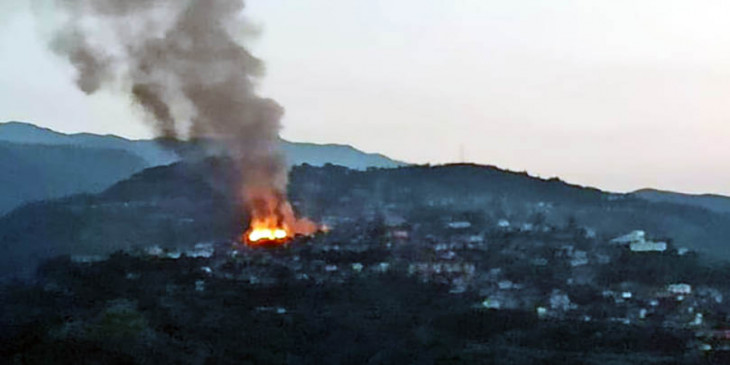 In Htan Tlang, Chin State, the junta military burned more houses, captured a Kanpetlet CDF camp and a Yaw PDF camp in Magway Division, and strengthened their military operations.
On the evening of November 24th, more than 10 houses again, were burned and destroyed by junta military.
They intimidate people by setting fire to homes and force them into security camps.
The junta military has not yet reported on the burning of houses in Htan Tland, but they have claimed that the burning of hundreds of houses in the past, was caused by the PDF.
Salai Htet Ni, a Chin National Front (CNF) official, said that the fighting had reduced in early November in Chin State but at the end of the month small shootouts had resumed in eight of the nine townships in Chin State.
The junta military raided a small PDF camp in Yaw, Magway Division, on November 22nd, by using more than 200 troops. A small CDF camp in Kanpetlet was captured on November 23rd, but there were no arrests or deaths.
On the border between Chin and Magway Divisions, the junta military has increased its operations but local defense forces in Chin State say they are also ready.
CDF leader, Min Tat, said they will retaliate for the houses that were burned in Chin State and for the arrests and harassment.
On October 29th, the junta military fired and destroyed more than 164 houses with heavy weapons in Htan Tlang.
The Chin CDF leader said two churches were destroyed in the fire and it was also believed to be harassment of religion and ethnicity.
The military council also destroyed more than 100 houses in the villages of Ramtalo and Talanza near Falam in the 3rd week of October.
In late September, during fighting between the CDF and the junta military in Thantlang, and the junta military set fire to homes.
The military council has been using extra force to control of the northwestern conflict region since June, and cutting off internet and telephone lines.