"The victim was burned alive" in Hpruso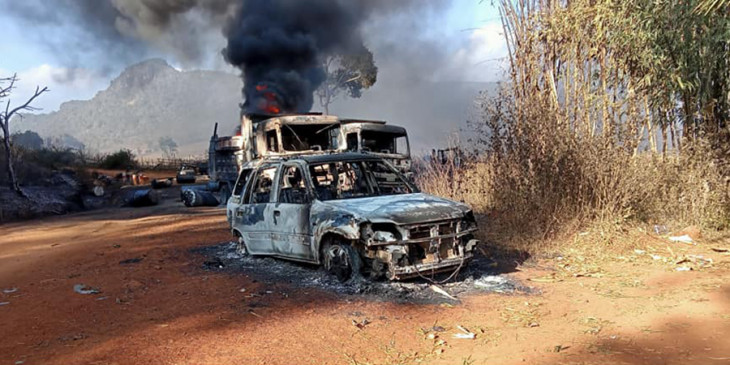 In Moso Village, Hpruso Township, Kayah State, junta forces abducted, beat, and burned to death more than 30 villagers and travellers in an unforgivable action, family members told DVB media outlet.
The 108th Light Infantry Battalion, of the 66th Combat Brigade under the junta military, marched towards Moso Village in Hpruso Township, and more than 30 villagers and travellers were abducted and burned to death on December 24th.
Family members said the military's acts of violence grow hatred in the community. A family member of one of the victims said: "We can never forgive the brutal killing of an honest man. It enlarges hatred."
The family member of another family said, "We don't know exactly when he was arrested, when he went to the farm or came back. We're not sure. He left just before 8 or 9 o'clock. He never came back. The military stopped everyone in the area and all incoming cars. Then they poured gasoline and diesel. After pouring it, they beat them, threw them on the car and set it on fire. We can't find words to express how we feel."
Locals said 35 civilians were burned to death by the junta including women and children.
Four members of the Border Guard Force (BGF) were killed (who have been regular supporters of the junta regime) and two members of Save the Children were reported missing, according to the respective organizations.
Eyewitnesses said the death toll could be higher than reported.
A local villager said, "We went to see it the next morning at 9 am. At that time the fire had stopped. The junta military had retreated. When we went to look, there were seven bodies under the engine and they seemed to be no more than figures of humans. There were 8 under the back bumper and then a pile of people on the vehicle. I do not know how many. The pile was high. We couldn't do anything."
A civilian father who was honestly working to feed his family was among those and burned alive by the junta military.
A local resident in Logar Village, Hpruso Township, said that "four youths from our village are still missing from that day."
Since there were a lot of people in the massacre, we don't know exactly who the victims are or where they are from. 4 people were from our village. They are 18 and 19 year old youths. They were displaced people. They intended to stay in Loikaw and then returned to get their property. It happened on their way."
Thousands of civilians were evacuated from nearby villages, including Moso, as military artillery barracks were set up near the Village of Moso.
A spokesman for the Karenni State Police (KSP) is investigating the recent inhumane killings by the junta regime in Hpruso Township, and has reported 15 missing persons so far, a KSP ‌ spokesperson said.
"Currently, we have 15 people on our list. Missing people who we have been notified of. Of those 15, only our locals were included. They are people from Loikaw and Hpruso. Currently, the list of children and women has not been finalised. There was an 18 year old boy. The rest are also teenagers," according to the spokesperson.
The Karenni State Police said that the Karenni State Consultative Council (KSCC) would take action and bring the evidence to the world.
Junta forces have called on the international community, including the United Nations, to end the violence across the country, but the junta regime continues to target civilians.