Thousands flee as bridge and houses destroyed in Ayadaw and Minkin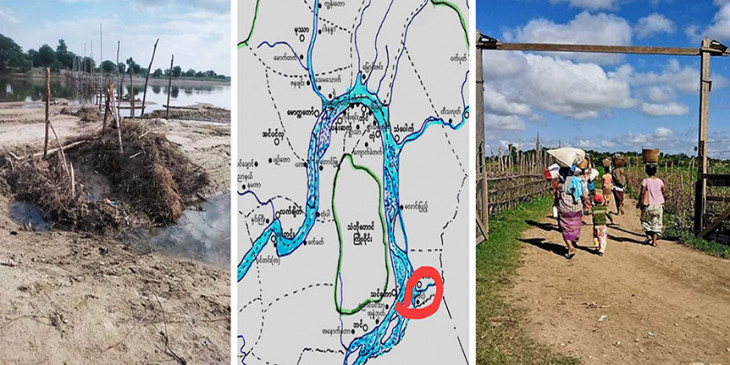 In Ayadaw Township, Sagaing Division, Mu River Bridge and two houses were destroyed by the Pyu Saw Htee group and in Minkin Township, thousands of people were forced to flee due to gunfire by military troops, according to locals.
On the morning of December 9th, the Pyu Saw Htee group, along with Win Naing, the junta-appointed Village Administrator, arrived at Sintale Village on the southeast bank of the Mu River in Ayadaw Township and destroyed houses in the village.
A villager said, "The head of our village himself is the guide. They also confiscated the phones of people they met on the way and told the people to get them back from the head of the village. They also warned the villagers to remove the PSI satellite dishes and put them at the administrator's office. They raided and destroyed the houses of relatives close to the family that produce iron grille doors."
On December 8th, a bridge built by the people of Sintale Village and the village on the east bank of the river was demolished at the behest of the junta-appointed Administrator. In addition to destroying the Mu River Bridge, the village's boatmen were threatened by the junta-appointed Administrator and armed Pyu Saw Htee members not to escort people to the other side.
Pyu Saw Htee members in Thaleba Village of Ayadaw Township, who were threatening local people and committing acts of destruction and harassment, were attacked by the local civil defense groups on December 6th, killing six of them.
Residents said thousands of people were forced to flee their homes due to heavy artillery shelling of riverside villages by junta troops, who had left Taungphyu Quay on the Chindwin River at Minkin Township, at around 7am on December 9th.
A local resident in Minkin said, "The military boats parked at Taungphyu Quay and incessantly shelled this morning. What has been damaged and lost is still unknown at this moment."
It was reported that the reason for the riverside shelling was to protect the the five jade boats the junta regime had parked on the side of Khatlon Village below Thindaw. Many cargo vessels were stranded in and around Kalewa due to the jade boats.
Photo: Mu River Bridge and houses of Sintale Village destroyed by junta