Three missing Dragon Soldiers after a battle in Pale region, found alive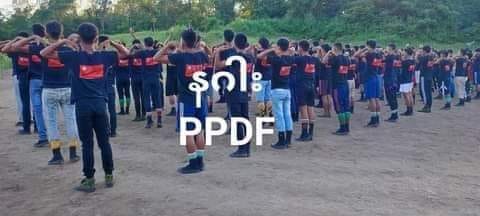 Three Dragon Soldiers who went missing after a guerrilla attack on December 30th in Pale Township, Sagaing Region were found alive, said the group leader, Major Nagar. They were found on the morning of December 31st. At least thirteen soldiers from the junta's army were killed in the clashes.
"We were separated yesterday. The problem was we did not have walkie-talkies, So when there was no phone signal, we were out of communication" Major Nagar said.
A military convoy of 40 vehicles entered Pale Township and spent the night in Auk Lal Thama Village on December 30th.
The Local Defence Forces reported that one of the military vehicles and 50 foot soldiers turned back from the village and stepped on landmines, planted between 57 and 58 mile markers, at around 11am on December 30th.
Eight were killed and six seriously injured.
Another five soldiers from the junta group were killed when they were attacked in two other locations, by the Dragon Soldiers in the Pongtaunggyi area. A total of 13 junta soldiers were killed.