Two citizens injured from air strike by junta military in Yin Mar Bin, Yay U Township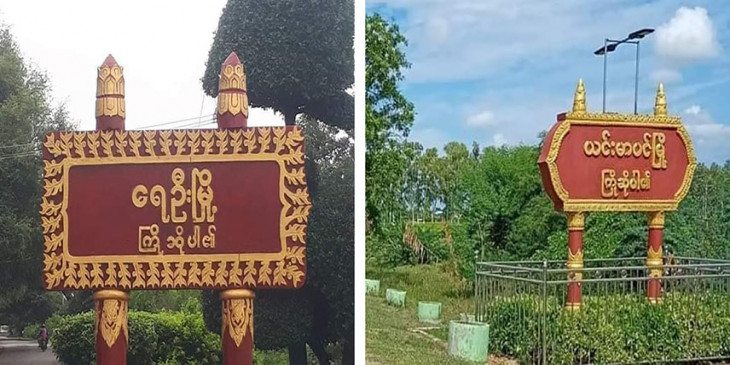 At about 1pm on the 20th of December, the junta military launched air strikes with 4 jets in the area between Yay Net Village and U Yin Village, Yay U Township, Sagaing Division. These villages were close to Yay U and Tant Say Townships.
One local stated, "There were airstrikes from 4 aircraft from the North Western Military Command, as they might have thought that the PDF forces were there. We don't know the damage exactly yet."
The locals reported that 2 helicopters flew along the border of Tant Say – Yay U and landed at Pan Kone Village, Yay U Township. Junta forces were left to clear the area, said the locals. The junta defended by air and ground forces in the areas of Sagaing Division where the PDFs were in hiding.
It was reported that 2 locals from Yin Mar Pin Township, Sagaing Division, were injured with firearms by the junta on December 20th. "The junta forces presence in some villages in Yin Mar Township made some locals flee from their homes and some got injuries from firearms," said the locals .
It was also stated that on the morning of the 20th of December, Maung Chan Lin Aung, from Pan Tai Village got a bullet injury in his thigh from junta forces who had arrived in Bant Bway Village from Than Bo Village.
There was also destruction of three houses belonging to U Chit Than, U Chit Po, and U Zaw Naing, from Bant Bway Village, reported locals.
Because of the movements of junta forces in Yin Mar Pin Township, locals became scared to stay in their homes and have been fleeing.
Also, Pho Pyu, alias Maung Myo Myo U, from Bant Bway Village was reportedly injured in his leg from junta gunfire.
A check point has been set up in Aung Zeya Quarter (also known as Shwe Taung U Kone), which is a residential area for veterans, where people travelling from Mon Ywa to Yar Gyi and Kalay Wa are now being checked for household certificates, or identity cards and are allowed to pass only when they could show their identification, reported the locals.