Villagers from Kaebar facing significant problems after junta ransack and torch large areas of their village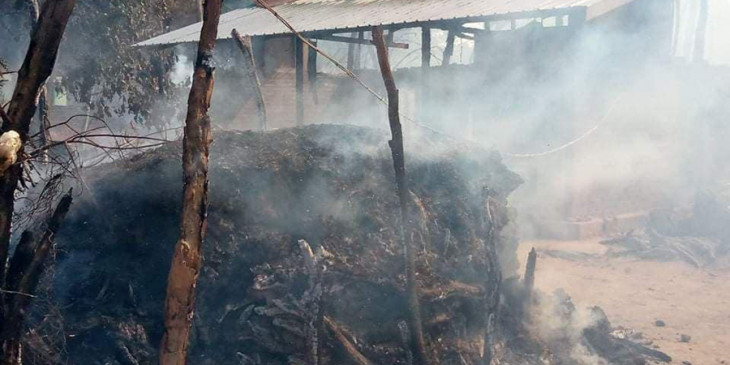 It has been reported that over 2000 IDPs (Internally Displaced Persons) are having difficulties finding enough food, water, and shelter, after they had to flee from Kaebar Village, Ayataw Township, Sagaing Division, as the northern part of their village was set ablaze by junta soldiers on December 13th.
According to locals, junta soldiers and the Pyu Saw Htee sent their armed forces to Thalaebar Village near Kaebar Village. Locals of Kaebar Village were worried that they would be attacked when the junta forces arrived. It was reported that junta soldiers, together with the Pyu Saw Htee, set fire to Kaebar Village after attacking it with heavy artillery.
One refugee said "We're afraid to enter our village since we heard that soldiers were stationed at Thalaebar Village, and besides, we have no home to return to after our whole village was burnt down by juntas." He continued, "We have difficulty even to get enough food. We also need medical aid, because among the IDPs, there are older people who are ill".
It is reported that among the 500 houses in Kaebar Village, junta's soliders burned down over 100 of them, in the northern part of village, and destroyed property within houses in the southern part of the village without setting fire to them.
Another local confirmed "All of the refugees can't run away from the village altogether. Some run away with family. Some run to their relatives. And it's difficult to get enough food and water since fleeing. Even when returning to the village for a while, we found that the junta threw away our food and rice and there is a lot of food scattered on the ground. There is no electricity, so it is impossible to charge our phones to contact people for help. Currently we have to save the remaining battery".
On December 1st , junta forces also set fire to houses in Naunggyi Aine Village, Ayadaw Township.
Attacks have happened between Local Defence Forces (LDF) and junta forces in Sagaing Division such as Kani, Taze, Depayin, Salingyi, Kabalu, and Myaung. The United Nations estimated that over 26,000 households from four townships have relocated to safe places and the numbers of IDPs in the area are nearly 40,000.